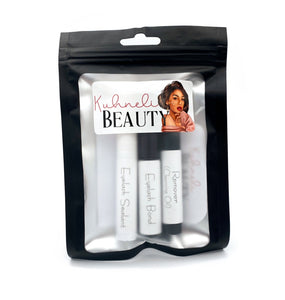 Purchase in a kit, or individually!

Bond (5ml)
Sealant (5ml)
Remover (5ml)
How To:
 Apply a thin coat of the

Eyelash Bond

on your natural lashes, and/or on the band of your lash cluster.

Use the applicator to pick up the lash cluster at the middle-outer edge. Grabbing one cluster at a time, gently place your cluster underneath the base of your natural lashes (slightly away from your waterline), and lightly push the cluster upwards into your natural lashes, and release. Repeat until your desired look is achieved! To prevent sticking, do not close your eyes too tight until you've applied the Eyelash Sealant.

Once all your clusters have been applied on one eye, dab/brush on a thin coat of the Eyelash Sealant over the Bond (focusing on the base). This will eliminate the sticky residue, and holds the clusters in place.
Ingredients:
Eyelash Bond: Acrylates/Ethylhexyl Acrylate Copolymer, Aqua(water), Butylene Glycol, Alcohol Denat, Carbon Black (D&C Black O.2), AMP-Acrylates Copolymer, Alcohol, Phenoxyethanol, Citric Acid, Sorbitol, Ceteareth-25, Sodium Carbonate, Cellulose Gum, Ethylhexyl glycerin.
Eyelash Sealant: Aqua(water), Acrylates/Ethylhexyl Acrylate Copolymer, Propylene Glycol, Phenoxyethanol/Ethylhexyl Glycerin, Octanol/Ethyl Glycerol.
Remover: White mineral oil, LAURETH-4, Isododecane,
2-phenoxyethanol, Tween 80, Ethyl hexyl glycerol, Propylene Glycol.